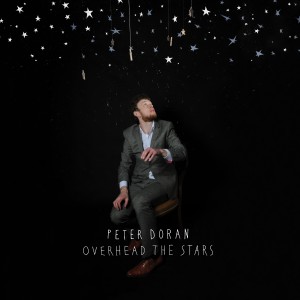 Some albums defy classification. Sometimes that's a good thing. Peter Doran can't seem to settle on a genre for his third studio album Overhead the Stars. But that's one of the record's strengths.
Never one to compromise, the Mullingar-born musician has drawn on 28 years of musical influences. The album hides glimpses of everyone from Neil Young to Radiohead, Bob Dylan to Pink Floyd. Overhead the Stars stands apart from typical singer-songwriter fare. It keeps listeners on their toes.
A folk sensibility holds the album together. Peter and his acoustic guitar sit at the root of every track. But Overhead the Stars is a product of true collaboration – the 11 song collection was crafted with the help of an all-new band and with the support of fans worldwide on PledgeMusic.com.
The record features a core group of musicians who join Peter on his upcoming tour. Their diverse influences come across in an album that ranges from heavy electric-guitar and drum led tracks, to soulful offerings inter-laced with subtle piano lines or bluesy guitar and lap steel.
Overhead the Stars was recorded at the idyllic Grouse Lodge Studios, Co. Westmeath (Muse, R.E.M. Michael Jackson). The band surrounded Peter in the studio's Live Room as the core of each track was laid down. Filippo Gaetani produced and mixed the record – his second collaboration with Peter. With "Overhead the Stars" Peter and the band have succeeded in capturing the intensity and dynamic of their live performances.
Through PledgeMusic.com Peter built a community around the recording process. His time in the studio was chronicled by Dublin film studio Kerbute Productions. Intimate listening parties and the upcoming nationwide tour will help Peter hit the ground running this September.